Do you ever think, "I wish my kids would be able to see this place" when visiting a historical site which will soon be in ruins? Well, they may just be able to! Google is planning to preserve such historically relevant, endangered sites. With the help of the non-profit, 3D laser scanning CyArk they are planning to make VR representations of these sites.
There are so many sites that have a great significance in history. These structures risk damage due to several kinds of natural and human interventions. This will lead to a total irreversible damage to such sites which is a loss to society. Google partnered with CyArk have started a project called Open Heritage Project. In this, they will use the 3D laser scanning from CyArk  for their VR representations.
This technology will help in collecting all the necessary data of a site. This data helps replicate the site in the virtual reality world. Virtual Reality headsets or any mobile devices or even a computer helps in exploring this.
The technology of today can help capture very minute details of these monuments. The color and texture along with the geometry are captured with acute precision. Such details can also help assist in the restoration process.
In 2011, Google started its Arts and Culture platform with a view to helping to preserve the art from the world over and making it accessible.They started with museums. With the help from museums, they could get the art online. Now they have diversified to various arts and also help in VR tours and similar educational medium.
Ben Kacyra  started CyArk in 2003 by. It is an Oakland, California based non-profit. The Taliban-led destruction of the old monuments across Bamiyan, Afganistan made Ben Kacyra create CyArk. The destruction of ancient heritage led to CyArk trying to restore such monuments at least virtually. With the help of high-resolution photography by drones and DSLR's accompanied by laser scanning systems, this is possible.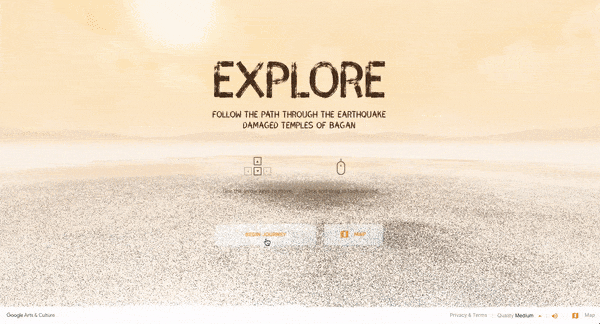 CyArkwas able to get a laser map of Myanmar's Ananda OK Kyaung temple. As you know now a tragic earthquake has left it in ruins. Now a 3D tour of the temple is possible with the launch of Google's Open Heritage project. Multiple sites from 18 countries around the world are also included with the Kyaung temple. These include Damascus's Al Azem Palace and the Mayan city ruins in Mexico.
Some highly sophisticated 3D models are available for some sites. With Google's Poly 3D viewer exploring and studying every detail of the models is easy. Over the years the company has managed to bring online a lot of collections from around the world. They partnered with around 1500 museums across 70 countries to achieve this. The world's arts and cultureare available for everyone at their fingertips. This is a new first for Google with heritage sites going online for the first time.
The source data for these 3D models will also be available online which will enable many people to study the 3D models and VR representations. All they have to do is apply to download them. This will help analysts to better research ways to restore the monuments. The models are accessible through Google Arts and Culture apps. It will be available on both iOS and Android. The apps support the VR tours. They are available through the Daydream platform by Google.
What you think?
Let us know your thoughts about VR representations of our heritage. We would love to hear from you. For this purpose please feel free to leave your comments below along with your feedback.
Image Credit : Google